Classroom Window Treatment Ideas
Classroom Window Treatment Ideas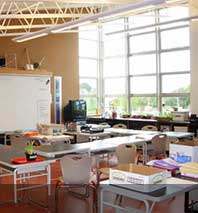 When planning your classroom window treatments, it is important not to fall into the classic institutional decorating trap. In the past, schools had dull, vinyl roller shades, usually in an off-tan color. While cost and efficiency are both key factors in choosing your classroom window treatments, don't feel bound to the standard, lackluster choices that many people associate with public buildings. Instead, remember that a classroom should be a pleasant and welcoming environment. Leave the vinyl behind and explore your options for stimulating classroom window treatments!
Typically, school buildings have larger than standard picture windows. Custom roller shades are a great and affordable choice, since they can provide privacy and complete light control, as darkness may be required for classroom video and projector presentations. Today's roller shades are available in dozens of colors, patterns and printed textural patterns. You can even order roller shades with custom graphics printed on them.
In terms of style, look for colors that will bring the whole classroom together without being garish or distracting. A very popular option is solar shades. These synthetic screens intentionally keep out light while only partially obscuring the view. Again, this provides an adequate amount of light protection and, since they are roller shades, solar shades are easy to operate. They are ideal if the classroom gets heavy sun at certain times of the day to prevent glare and heat gain. Solar shades are very modern in appearance. A solar shade can maintain the pleasant, open quality of a plate glass window without entirely losing the view.
In classrooms, operation is an important consideration. For classrooms with young children we urge you to choose a blind or shade with a cordless option. Cordless operation is safer and offers a cleaner look free from the visual clutter of cords. Motorized operation via remote control is offered on many types of window shades and offers the ultimate convenience for instructors.