Bedroom Window Treatments
Bedroom Window Treatments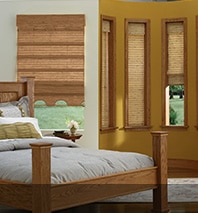 When selecting window treatments for your home, it's important to consider the individual needs of each room. Professional designers will tell you that there are four factors to consider for every space. These are light control, privacy, aesthetics and heat insulation. An ideal window treatment is a combination of all four of these elements, and you will need to take the requirements of the room into consideration. In bedroooms, blackout shades are a popular choice for complete darkness. Also consider how the orientation of your window will affect the light control. For example, an east-facing window will get early morning light that you may want to block.
Bedroom window treatments can be one of the trickiest to select. Most people rate their bedroom as the most crucial and personal space in the home. Considering that it is where one traditionally sleeps, relaxes and spends a majority of their private time, the bedroom is often characterized as a sanctuary or refuge from daily life. For bedroom window treatments, privacy and light control are main considerations along with the desire for them to be aesthetically pleasing. Many people want a softer look for the bedroom that incorporates fabric. Roman shades provide the appeal of drapery fabrics in a shade, offering a rich look that requires no drapery or valance. To soften the look of existing blinds or shades, you may want to consider adding a fabric valance in a pole-mounted or board-mounted style. Valances are an easy and affordable way to update your look; dozens of updated fabric patterns are available. Drapery is very popular to layer over blinds because they add an extra layer of light blocking, privacy and insulation to keep the room more comfortable. With drapery, the design possibilities are as endless as your imagination.
For the perfect blend of fashion, light control and privacy, consider wood blinds or cellular shades. Wood blinds won't provide blackout coverage, but they offer more flexibility for allowing in some light while still providing privacy. Both of these are available in a wide assortment of styles and colors, and can be paired with appropriate curtains and window hardware to create a coherent and functional window treatment. Try to match your bedroom window treatments with a few other key design elements in your bedroom. This can be anything from a cherished bedspread to a colorful painting. Don't settle when it comes to bedroom window treatments, and keep refining your design scheme until you get your shades and curtains just right.