Dining Room Window Treatment Ideas
Dining Room Window Treatment Ideas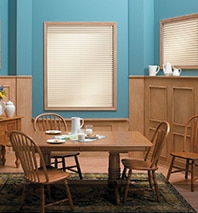 Any window treatment needs to operate on three fundamental levels: style, light control, privacy and heat control. Every room in your house has a different set of parameters within which its window design elements need to function. For dining room window treatments, light control and ambience typically top the list.
Many people use their dining rooms as a house centerpiece. Whether they are formal or funky, dining rooms also tend to be a high traffic area and a combination of light and design sense will ideally make the dining room an inviting and comfortable space for family and friends to enjoy a meal. Your dining room is also a chance for you to indulge your sense of the dramatic and really create some show-stopping design effects.
Your first concern should be light and privacy. Many dining rooms are located prominently on the ground floor, and if your house is in a residential area that means you need to deal with pedestrians peeking. Also, depending on the dining room's location, you may need to contend with irritating sun glare at certain times of the day. Cellular shades can be an attractive option. Cellular shades are available with optional blackout curtains if light control is a serious concern. They insulate in the winter while trapping AC in the summer, and they are also a stylish and modern choice. Frame them with attractive, neutral cloth drapes for a modern, sophisticated feel. If you are looking for something more classic and formal for your dining space, you'll probably go with cloth shades and curtains. Roman shades made of fabric don't offer quite the same levels of light protection and aluminum and wooden blind alternatives, but there's something about the texture and fabric colors that can make any dinning room window treatment memorable.