Asian Style Window Treatments
Asian Style Window Treatments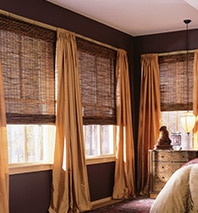 Whether you are designing an Asian-inspired master bathroom retreat or just want a touch of Asian décor your search for Asian window treatments can be narrowed down to a few types, all of which are available for purchase on our website.
Asian Shades
Woven wood shades
made with natural
bamboo
, grasses, reeds, matchsticks and even rope are the most popular choice for any Asian theme where natural and eco-friendly materials are featured. Texture plays a big role in Asian design, and woven wood shades are a great way to introduce a texture into the room.
If you prefer more softness, silk and imitation silk fabrics could add elegance to an Asian theme. Consider a roman shade made with a traditional-looking silky fabric to bring the softness of fabric to windows. The subtle light filtering of silk fabric will enhance the room and create a soft glow that's popular in Asian rooms.
Colors for Asian Blinds & Shades
Color is something to consider for your Asian design theme. Other than natural wood tones, black, red and jade are the main colors to consider. Red is used as a symbol of good luck in Chinese themes along with jade green. Jade is prized in the Chinese culture; a jade-colored room will have an air of authenticity. For your windows, the simplicity of black wood blinds could be an effective design element if the other pieces in the room are already a major focus. Lacquer and shiny surfaces are often used as accents, so a more subtle painted black wood finish for your window blinds could be a good choice to maintain continuity without overwhelming the space.
browse selection of

asian window treatments