Interesting Window Treatments
Interesting Window Treatments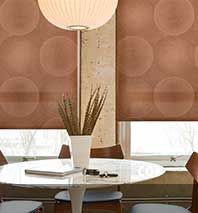 Every customer has different needs when it comes to buying blinds and sometimes the experience can be overwhelming. With that in mind, the experts at Blindsgalore have put together a few ideas for interesting window treatments.
First, think about your overall aims for the room. Is it a high traffic living room? A formal dinning room for entertaining guests? A home office? Above all, you want your interiors to be inviting, not cold.
Look for unlikely inspiration when designing your window treatments. Do you have a favorite piece of heirloom furniture? Your fabrics don't need to completely match—get a color wheel and pick from the same spectrum. The point is to evoke the same fond feeling of comfort you get from your inspiration.
Ideas for interesting window treatments can also come from movies, books, photographs or your favorite TV shows. The trick is to avoid exactly copying the window treatments from Desperate Housewives or Sunset Boulevard—too staged—but instead set up your treatments to evoke that style by using similar materials.
Think of your view as a picture and the curtains as the frame. Sweeping curtains and a draped matching swag cloth call up a sense of classic elegance and are ideal for high ceilings. Combine that with any neutral colored blinds or shades for privacy. If you're on the ground floor, consider a half-length, semi-opaque café curtain in matching fabric to let in light but block out the view of street-level traffic.