Formal Window Treatment Ideas
Formal Window Treatment Ideas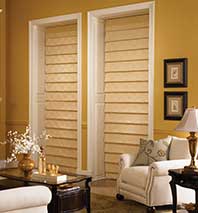 Different personalities are drawn to different elements of style. Some people go ga-ga for sleek and modern, while others have never found a natural wood texture they could resist. Formal window treatments are another color in the interior designer's versatile paint box. Formal window treatments have a very distinctive look and feel, and they can easily be a key feature in bringing together a classic and gracious interior.
Typically, formal window coverings are employed in either the dining room or the bedroom, though they can also be deployed to great effect in a living room or any other space in which you host guests. Traditional formal window treatments are composed of three key elements. First, for privacy, you'll want a blind or shutter of some sort. You will want this to be relatively unobtrusive, and you should probably go for something in a neutral color. Make sure whatever color blinds you choose don't clash with your drape fabric. Which brings us to fabric - when designers think formal, they think quality fabrics, so you may want to look into cloth roman shades for your centerpiece blinds. Nothing makes a room look more effectively put together than matched fabrics throughout. You'll probably want hanging cloth drapes to frame your blinds or curtains. Pick a rich looking, textured cloth.
Most people associate formal rooms with dark colors and dark woods, but a creative designer can create a similar effect with light fabrics. If possible, spread your fabric choice or variations on it throughout the room, using it as a tablecloth for side tables or upholstering furniture.