Japanese Style Window Treatments
Japanese Style Window Treatments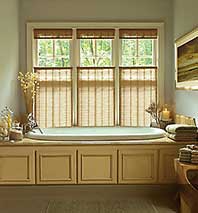 Many window treatments have subtle Japanese design influence to complement your decorating scheme, whether it's the clean lines, sheer fabrics, or natural materials used. If you want to incorporate Japanese window treatments as part of your interior design, take a look at some of the styles we offer that we're highlighting for Asian themes.
Bamboo window shades
Bamboo shades have long been used as a decorative element in Japanese interiors, from live plants to harvested bamboo materials used in making window shades, floor mats, and wood plank flooring. Many of our woven wood shades are made using bamboo and are evocative of Japanese design, such as the Blindsgalore Natural Woven Shade Exotics Collection. Many other woven shades are made with grasses, matchsticks reeds, wood planks and other natural materials that complement a Japanese theme. All woven wood shades offer customized options such as decorative fabric edge binding, different valance styles and fold options. Flat fold shades provide more of a Japanese look than more formal looped folds, which are better for other types of decorating themes.
Panel track blinds
If you like the look of traditional sliding Japanese shoji screens, but want something more updated, consider panel track blinds. Sometimes called sliding panels, panel track blinds can be installed on large windows or in large spaces to act as a room divider. When you choose a panel track blind made with light-diffusing fabrics, it simulates the translucent effect of rice paper used in authentic shoji screens. Panel track shades glide along parallel tracks like shoji screens, but offer a more modern look for today's lifestyles. Choose from dozens of light-filtering fabrics with varying degrees of texture to complement the other design elements in the room.