Decorating Ideas for Window Treatment
Decorating Ideas for Window Treatment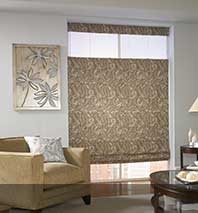 Whether you choose to go elegant/formal, cozy/casual or cutting-edge contemporary, adding some flash to your window treatments can turn them from a functional necessity to a stylish feature. We've put together some decorating ideas for window treatments that we hope will help you come up with something you can enjoy for years to come.
First, find your inspiration. It can be something as simple as your favorite color or subject, or as specific as a movie scene or your childhood living room. Whatever it is, it should make you feel comfortable in your own space. Stay away from directly copying epic film interiors, and instead try to piece together treatments that evoke the scene without looking too staged.
Use window treatments to accent themed rooms. If, for example, you've decorated your room with an Eastern flair, there are an extensive run of bamboo and tatami natural woven blinds available. On the other hand, if your theme is nautical or marine, look for striped roman shades or window hardware (i.e. curtain hooks and curtain rod finials) in the shape of anchors and seashells.
When it comes to choosing colors or patterns, try and repeat what you've chosen for cloth drapes or shades throughout the room. This gives the whole room a pleasing, cohesive feel. It can be obvious—matched seat cushions or throw pillows—or subtle, like picture frames or molding trim.
Other fun decorating ideas for window treatments include assembling your own curtains. If you've got DIY spirit, you can pair custom blinds with curtains you construct in the fabric store. Find an inspiring picture in a catalog, measure the appropriate length of fabric, hem the ends and buy a third length for a drape swag. Then all you need is a nice curtain rod and you'll be surprised how elegant a simple length of fabric can look after you artfully drape it.